Description
Agar Agar Mooncakes Making Class
Agar Agar Mooncakes are made of agar-agar, coconut milk, Lotus Paste, Pandan Leaves and Colouring.  Suitable for Vegetarian (Eggless).
Refreshing and chill dessert.  Can also convert the same technique to make a birthday-agar-cake for a different.
What is Agar?  It has been used as an ingredient in desserts throughout Asia and also as a solid substrate to contain culture media for microbiological work. Agar can be used as a laxative; an appetite suppressant; a vegetarian substitute for gelatin; a thickener for soups; in fruit preserves, ice cream, and other desserts; as a clarifying agent in brewing.
Duration: Total approx 4 hours.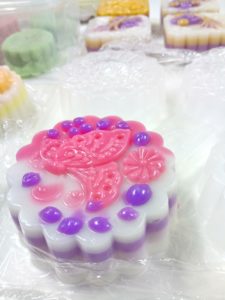 ---
WHAT YOU LEARN
Understanding the theory, ingredients and learn the skills and technique in making this refreshing Mooncakes.
Prepare and cook the agar-agar at different stages in order to have different texture for different layers of the aga-agar mooncakes

Understanding the do's and don'ts in cooking the agar agar

Assembly the agar agar at different stage.

Finally bring home the agar agar mooncakes made in class, together with the mooncake mould.
---
COURSE FEE
$120 per participant.

Individual station.  No sharing with other participants. 100% Hands-on.

Small Class Size (2 to 8 participants).

You can request for your preferred date and time with minimum 2 pax if our published schedule does not meet your requirement.
---
COURSE SCHEDULE
Request with minimum 2 pax
---
Can't attend the above dates?
Request your class at your preferred date and time with minimum 2 participants. Get a friend or family member to join you!

Learn other type of mooncakes.  Click here.