Hands-on Baking Class Schedule
Hands-on baking class in SINGAPORE.  At ITSI Baking Studio, we offer individual hands-on baking class, small class size which allow participants to have a direct experience of the entire baking journey.
You have your own station to bake and get the chance to prepare, create the batter, bake and decorate all by yourself.  Suitable for both novices with no baking experience to learn the fundamentals of baking, and experience bakers who needs additional tips and enhance their skills.
During class, you will have the chance to meet the trainer face-to-face to answer your questions, clear your doubts, impart baking skills, and tip pertaining to the class recipe.
Bring home the bakes made in class to share with your family or/and friends.
SIGN UP FOR MONTHLY PUBLISHED BAKING CLASS
100% Hands-on Baking Class, Individual station
If the published baking class could not meet your schedule, request for your preferred date & time with minimum 2 participants.
One to one coaching available at higher rate.
(Morning, Afternoon, Evening)
Versatile cake well loved by the young and old in our home.  Almost all eaten up already.  Well love and Thumb up,
Sarah
My name is Janet. I would like to say thank you for your guidance for the above-mentioned class.
I have done several times using your recipes and it was extremely great (see attached pic) Therefore i would like to express my gratitude for it.  Thank you. My dear.
Janet Chua
---
HANDS-ON BAKING CLASS (Individual station)
Class date can't meet your schedule?  Bake selection is not what you want? 
You could request with minimum 2 pax.
Payment Mode: Credit Card via Paypal or Bank Transfer / PayLah / PayNow
---
Request to open a Class with minimum 2
 Pax
Choose your preferred date / time / choice of bake. 
We shall revert back availability.
* Private Class / Individual coaching at higher rate.. Welcome Team Bonding Session
Online Zoom Coaching Session
Include recipe and ingredients delivered to home.  Tools and equipments to be provided by Clients. Suitable for one to one coaching, friends socialising and Corporate Team Bonding.
from $120 per pax, 3 hours duration.
Choose your date / time / choice of bake. We shall revert availability.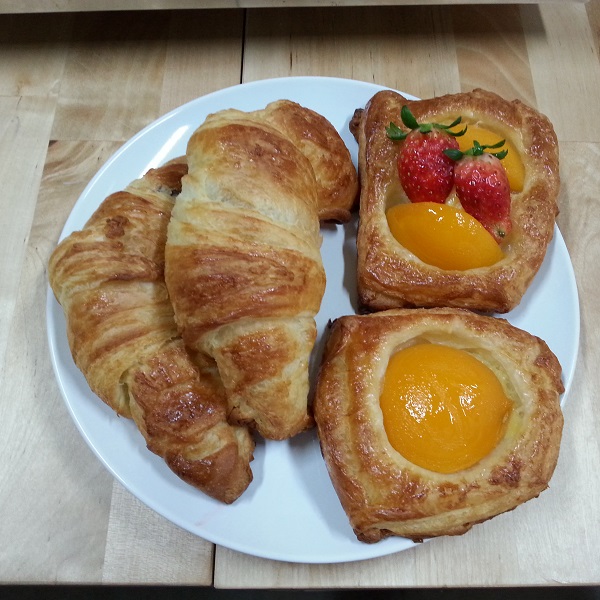 Croissant and Danish Pastries
Kneading and laminating both Croisasnt and Danish Pastries.
$140 per pax
27th June | Monday | 12nn to 5/6pm
Venue: Outram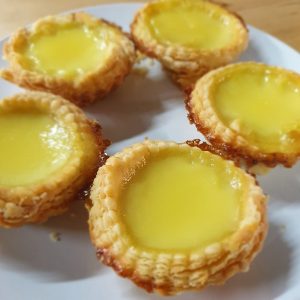 Hong Kong Egg Tarts
Handmade 2 types of HK tarts: Cookie Dough and Layered Dough.
$120 per pax
28th June | Tuesday | 2.30pm to 5.30pm
Venue: Outram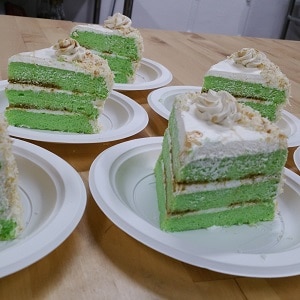 Ondeh Ondeh Cake
Pandan soft-moist Sponge Cake with Gula Melaka and Coconut.
$100 per pax
2nd July | Saturday | 2pm to 5pm
Venue: Outram
Steam 9 layers Kueh
Steam Lapis kueh.
$90 per pax
8th July | Friday | 10am to 12nn
Venue: Outram
Apple Tarts with crumbles
Hand making the tart shell and crumbles.  Delicious combination with apples filling.
$80 per pax
10th July | Sunday | 3pm to 5pm
Venue: Outram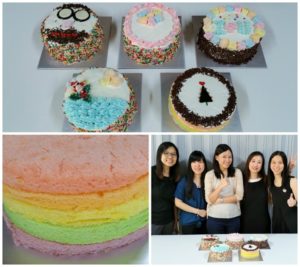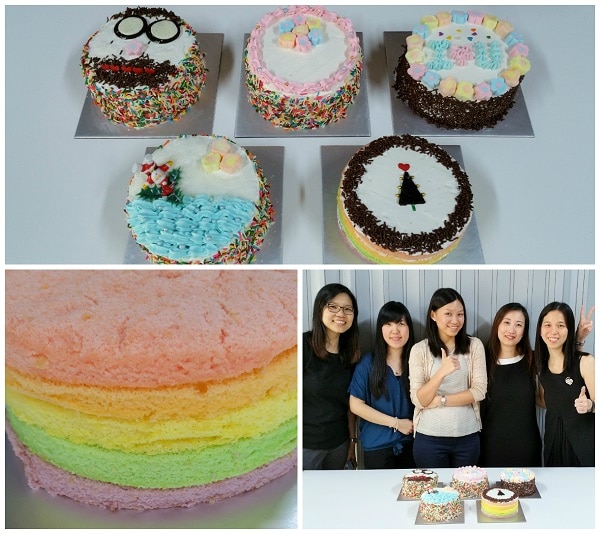 Rainbow Cake
Colourful Rainbow Cake for any celebration.
$120 per pax
15th July | Friday | 3pm to 6pm
Venue: Outram
Fruity Swiss Roll
Soft and moist Swiss roll with Frosting and Fruits
$100 per pax
17th July | Sunday | 1pm to 3pm
Venue: Outram
Basic Macaron
Macaron with Chocolate Ganache
$100 per pax
18th July | Monday | 10.30am to 1.30pm
Venue: Outram
Black Fresh Cake
Chocolate Sponge cake with pitted dark cherry and whipped cream.
$120 per pax
18th July | Monday | 2pm to 5pm
Venue: Outram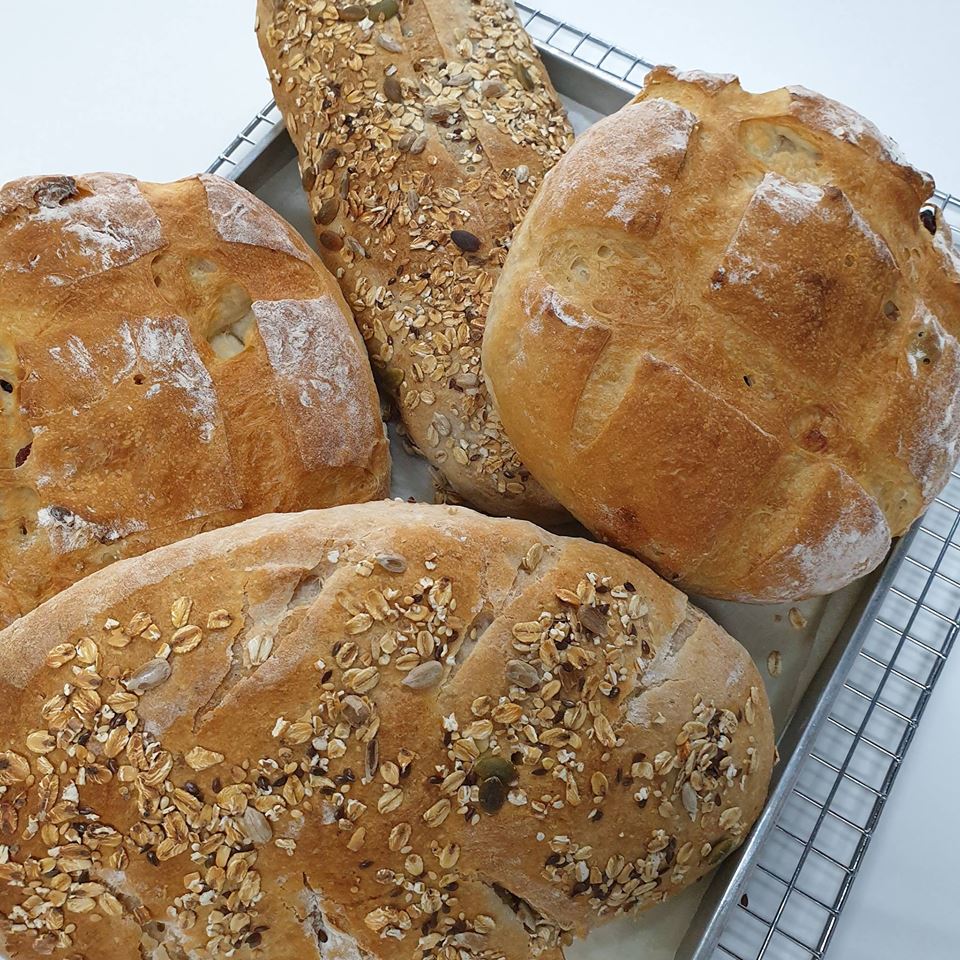 Artisan Sourdough Bread
Kneading 2 types of bread: Cranberry Walnut and Wholegrain.
$120 per pax
30th July | Saturday | 12pm to 6pm
Venue: Outram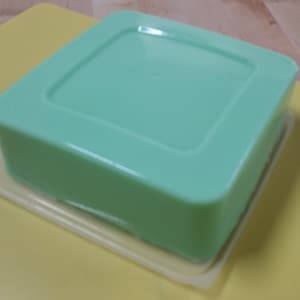 Pandan Kaya Cake
Making sponge cake and cooking Pandan kaya for the cake.
$100 per pax
6th August | Saturday | 2pm to 5pm
Venue: Outram
Pre-registration and payment is required to secure a seat

No cancellation is allowed once payment is made. However, you could choose another date / course where available.  You will need to inform us 7 days before the class date and attend the session within 14 days 

No refund of course fee or replacement of class if you did not turn up for the class 

As we have limited space at our baking studio, we kindly required your cooperation not to bring additional guest / kid to the class.

Do arrive early / on-time to avoid the introduction of the class. We will start the class on-time.

Packaging will be provided after the class. However, you are encouraged to bring your own containers / box / bags to save the world.

During class, you are allowed to take pictures BUT STRICTLY NO VIDEOING. Images taken during class by ITSI BAKING STUDIO will be posted at our own sites and media