Description
Baked Mooncakes Making Class
Flaky Spiral and Shanghai Walnut baked Mooncakes.  Participants could request for Vegetarian Eggless version too.
About Mid-Autumn festival:
The festival is intricately linked to legends of Chang E, the mythical Moon Goddess of Immortality. According to the Liji, an ancient Chinese book recording customs and ceremonies, the Chinese Emperor should offer sacrifices to the Sun in spring and the Moon in autumn. The 15th day of the 8th lunar month is the day called "Mid-Autumn". The night on the 15th of the 8th lunar month is also called "Night of the Moon".
Because of its central role in the Mid-Autumn festival, mooncakes remained popular even in recent years. For many, they form a central part of the Mid-Autumn festival experience such that it is now commonly known as 'Mooncake Festival'.
Duration: Total approx 4 hours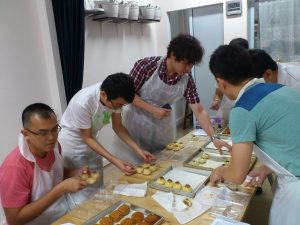 ---
WHAT YOU LEARN
Understanding the theory, ingredients and learn the skills and technique in our 2 types of Baked Mooncakes Class.  Fully hand-made, hands-on.
Prepare and knead the skin of the Flaky Spiral and Shanghai Walnut Mooncakes

Prepare rounding the fillings of the mooncakes.

Wrap and mould the mooncakes before baking.

Bring home the mooncakes made in class.
---
COURSE FEE
$120 per participant

Individual station.  No sharing with other participants. 100% Hands-on.

Small Class Size (2 to 8 participants)

You can request for your preferred date and time with minimum 2 pax if our published schedule does not meet your requirement.
---
COURSE SCHEDULE
25 September | Monday

9am to 1pm
---
Can't attend the above dates?
Request your class at your preferred date and time with minimum 2 participants. Get a friend or family member to join you!
---