Description
Making Chocolate and Chocolate Truffles
Chocolate Truffle and Chocolate Making – Temper Dark, Milk and White Chocolate.  Get the home based technique to make Chocolates and Truffles.
Chocolate tempering is all about controlling crystals in order to have a stable, shiny snap chocolate that doesn't melt quickly in the hands.  During tempering, the cocoa butter in the chocolate takes on a stable crystalline form. This guarantees a perfect finished product with a satin gloss and a hard snap. It also makes the chocolate contract during cooling, rendering un-moulding it a lot easier.
Duration: Approx 3 hours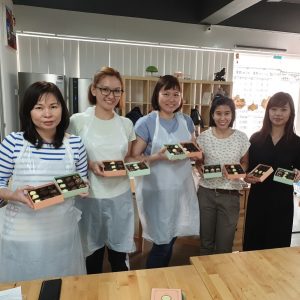 Chocolate Class
Review from Participants
"Many thanks for the attached, and thank you for the session! We had fun, and I have received feedback from my colleagues that the chocolates were very well-received at home when they brought them back."
---
WHAT YOU LEARN
Understanding the theory, ingredients and learn the skills and technique in making Chocolate Truffles using Couventure Chocolate.
Understanding different types of Chocolates – Compound vs Couventure.

Understanding different kinds of Chocolates – White, Milk and Dark Chocolate.

Practical hands-on to temper your Chocolate.  Make Chocolate and Chocolate Truffles in class.

Bring home the Chocolate and Truffles made in class.
---
COURSE FEE
$120 per participant

Individual station.  No sharing with other participants. 100% Hands-on.

Small Class Size (2 to 8 participants)

You can request for your preferred date and time with minimum 2 pax if our published schedule does not meet your requirement.
---
COURSE SCHEDULE
30th September, 2022 | Friday

2pm to 5pm.
---
Can't attend the above dates?
Request your class at your preferred date and time with minimum 2 participants. Get a friend or family member to join you!

Would like to learn other Chocolate dessert or pastry?  Refer to our list and request for it –> Choice of Chocolate
---
Welcome Corporate Team Bonding Chocolate Making Session.